National Center of Excellence for Hyperhidrosis Treatment
What is Better, Vein Stripping or Endovenous Obliteration (VNUS, EVLLT, ELVeS)
By: Hratch Karamanoukian, MD and Raffy Karamanoukian, MD
August 18, 2008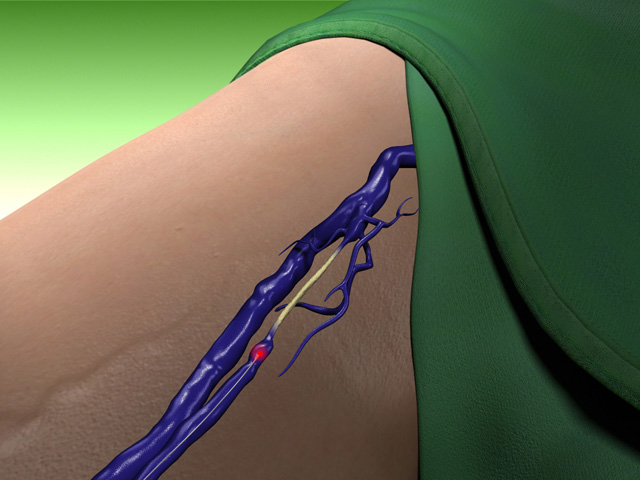 image borrowed from keokimed.com
How effective are endovenous obliteration techniques in the treatment of lower extremity varicose veins? This is a question I often get asked when I evaluate patients with venous reflux disease and varicose veins.
A recent meta analysis of existing clinical studies looked into this topic by analyzing studies published until 2007. Dr. Van Den Bos and colleagues from the Department of Dermatology, Rotterdam, the Netherlands.published this data in the Journal of Vascular Surgery in August 2008.
The researchers found that endovenous obliteration techniques, when compared to ligation and vein stripping was superior: At 3 years follow-up, vein stripping was 78% successful, radiofrequency ablation (VNUS) was 84% successful and endovenous laser therapy (e.g. EVLT) was 94% successful.
The authors concluded that "in the absence of large, comparative randomized clinical trials, the minimally invasive techniques appear to be at least as effective as surgery in the treatment of lower extremity varicose veins
Dr. Karamanoukian's note – There you have it, endovenous obliteration is more effective than vein stripping and it seems that endovenous laser (EVLT, ELVeS) are more effective thatn radiofrequency obliteration (e.g. VNUS).
# # #
For more information about hyperhidrosis (excessive sweating) , as well as surgical and non-surgical hyperhidrosis treatment options, contact Dr. Karamanoukian at The Center for Excessive Sweating, a National Center of Excellence for Hyperhidrosis Treatment by email or by phone at (716) 839-3638.